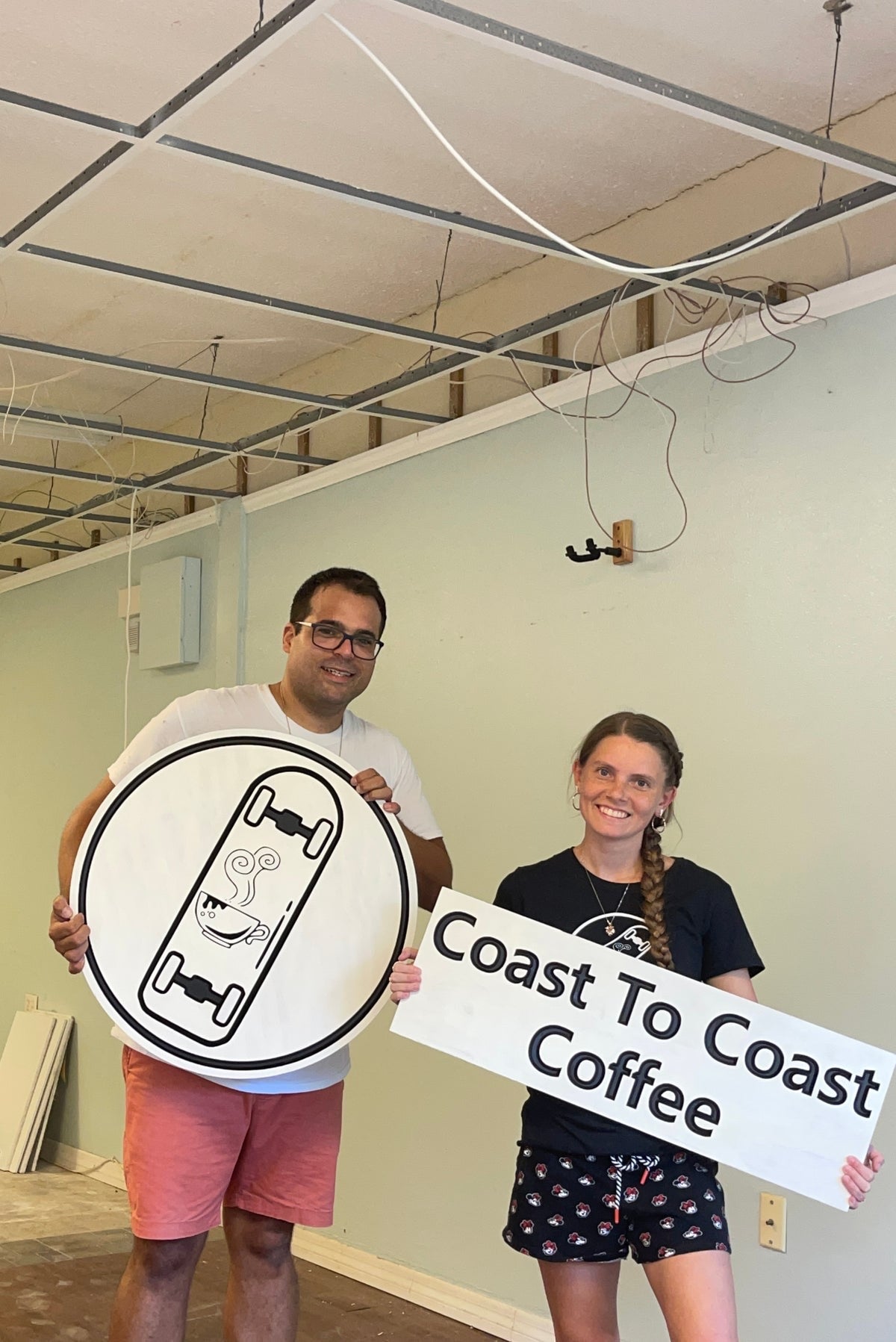 Gabrielle and I started Coast To Coast Coffee with the dream of giving coffee drinkers a better morning brew. We really wanted to simplify the way a pour over is prepared for people on the go.

To me it seems everywhere wants to be all fancy and provide a seat space for the people who want to work or want to just hang out and talk. This is completely fine, but the people who are on the go need to be fast and efficient. This is where Coast To Coast Coffee can bring just that to the people who are in a rush to work, or need to pick up the kids, or get to that baseball game before their kids notice that they aren't there!

We really want to provide the best beans and simplicity to your day. About 8 years ago is when Gabrielle and I met. The skateboard with the coffee cup logo was stemmed from our first date. Which was us drinking coffee and bombing hills. Scary, but absolutely amazing. Patrick was born in New Jersey raised in a town called Sea Bright. This is a little beach town below sandy hook, NJ. Growing up here was not easy, the people of the town did not like my family very much and as a kid I got beat up and called a lot of horrible names. Overall it was a nice town, but it had its quirks. Around the age of 13 I moved to a place called Asbury Park, NJ.

This was a really bad town when I lived there. We would hear gunshots down the street all night sometimes. I remember one day at school we were in Home Economics class. We all had to get on the ground under our desk because a gun was firing right outside on the first floor. This was a scary time, but being able to overcome all of that and start the dream is an unbelievable feeling.

Gabrielle comes from around the same areas as I did in New Jersey. She grew up in Neptune, Shark River Hills, Sea Bright. We have both been moved around in our lives. Coming from the bottom was hard. We both had to struggle to get to the top. Now we can say we are wealthy with the things we have in life, which is truly each other. This was a brief scope into our lives! Please come say hi to us and meet us in person. We love to make you feel like you are part of the family when you walk into these doors.